BPS entitlements available 2021
COVID-19 UPDATE: You can still contact us by phone or email at the usual numbers/emails. To ensure continuity we are using a new telephone system, Microsoft Teams, which may not be familiar to you. Please be patient if we take slightly longer in dealing with your calls. Our office hours are 8.30-5.30 Mon-Fri. We also will be working over the weekends, as usual, when needed. 
If you have any problems getting through to us by phone, please email us with your telephone number and we will get back to you.
Below is a selection of the entitlements we have AVAILABLE for 2021, however please contact us for the most up-to-date information:
| | | | | | |
| --- | --- | --- | --- | --- | --- |
| Total ha | Transfer type | Entitlement type | Ref | Status | Deadline |
| 100 | SELL | ENGLISH NON-SDA | 21V002 | £OFFERS | 15.05.2021 |
| 24 | SELL | ENGLISH NON-SDA | 21V003 | £OFFERS | 15.05.2021 |
| 11.37 | SELL | ENGLISH NON-SDA | 21V004 | £OFFERS | 15.05.2021 |
| 3 | SELL | ENGLISH NON-SDA | 21V005 | £OFFERS | 15.05.2021 |
| 22 | SELL | ENGLISH SDA |   | £OFFERS | 15.05.2021 |
| 5 | SELL | ENGLISH SDA |   | £OFFERS | 15.05.2021 |
| 140 | SELL | ENGLISH MOORLAND |   | £OFFERS | 15.05.2021 |
| 48.86 | SELL | ENGLISH MOORLAND |   | £OFFERS | 15.05.2021 |
| 25 | SELL | WELSH |   | £OFFERS | 30.04.2021 |
| 40 | SELL | SCOTTISH REGION 1 |   | £OFFERS | 02.04.2021 |
| 9 | SELL | SCOTTISH REGION 2 |   | £OFFERS | 02.04.2021 |

Basic Payment Entitlements can be sold, leased or transferred through inheritance and can be sold or leased either with or without land. Sales without land are the easiest to deal with and are the most popular method of trading. VAT is payable on Entitlements traded (sold or leased) without land, unless the seller/lessor is non-VAT registered. Unless otherwise stated all the above entitlements are offered for sale without land and VAT will be due on the price agreed. The entitlements listed above are offered subject to contract.
Please note we also only act on a subject to contract basis, or subject to the submission of paper transfer forms or via an online transfer application, when buying or leasing Entitlements or leasing for Naked Acres for our clients. We do not enter into oral contracts on behalf of any of our clients.
Entitlements and Naked Acres listed may include lots offered by other agents where prices quoted would include an introductory commission payable to Townsend Chartered Surveyors.
From 2015 the usage rule changed and now farmers must now use all their entitlements in a single application at least once every two years, otherwise the unused entitlements will be lost to the National Reserve. From 2015, in England and Wales the minimum claim size increased to five hectares, and to three hectares for Scotland and Northern Ireland.
Although the RPA in England announced that BPS entitlement transferees/claimants are no longer subject to an Active Farmer Test for 2018 onwards, the RPA online computer programme may still require that they confirm their Active Farmer status before it will process any transfers/claims. Therefore transferees and claimants should ensure they make the online Active Farmer declaration on their RPA online account to enable entitlements to be transferred to them.
In Scotland from 2018 onwards the active farmer rules were relaxed in that the "negative list" was removed and therefore non-farming businesses that met other criteria can now claim.
Unless specifically instructed in writing we are unable to provide advice in respect to the Basic Payment Scheme or any other schemes under the Common Agricultural Policy of the European Union, especially how they may affect a particular vendor's or purchaser's eligibility for the Basic Payment Scheme.
Any such comments or statements made by Townsend Chartered Surveyors verbally during the process of buying, selling or leasing entitlements, or leasing for naked acres or otherwise cannot be relied upon unless such advice is provided in writing following receipt of written instructions for Townsend Chartered Surveyors to provide such advice. Any such oral comments or statements do not form part of entitlement or naked acre agency contracts.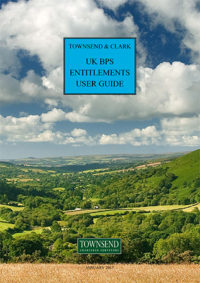 The first definitive user guide, paperback available for £25 – click here for more details.