We have now published our UK Markets 2021 report.
As BPS is entering its penultimate claim year, and the first claims begin under ELMS (Environmental Land Management Schemes), this report now covers fifteen established and emerging markets. These include BPS Entitlements and also Environmental Credits.
For an idea of the additional income possible from Environmental Credits download our new free ebook UK Environmental Credits User Guide. Also do ring or email us to find out more about what income your land can produce from Environmental Credits, to book a farm/estate assessment, and to register your Credits with us.
START OF 2022 ENTITLEMENT TRADING
2022 BPS Entitlement trading has now started with the sale of some small lots of Non-SDA at £180 plus VAT.  Our estimated prices for the specific unit and region types for lots over 10 ha plus VAT are as follows. Estimated figures are based on what purchasers are willing to pay as at 10/1/22, all prices quoted do not include VAT.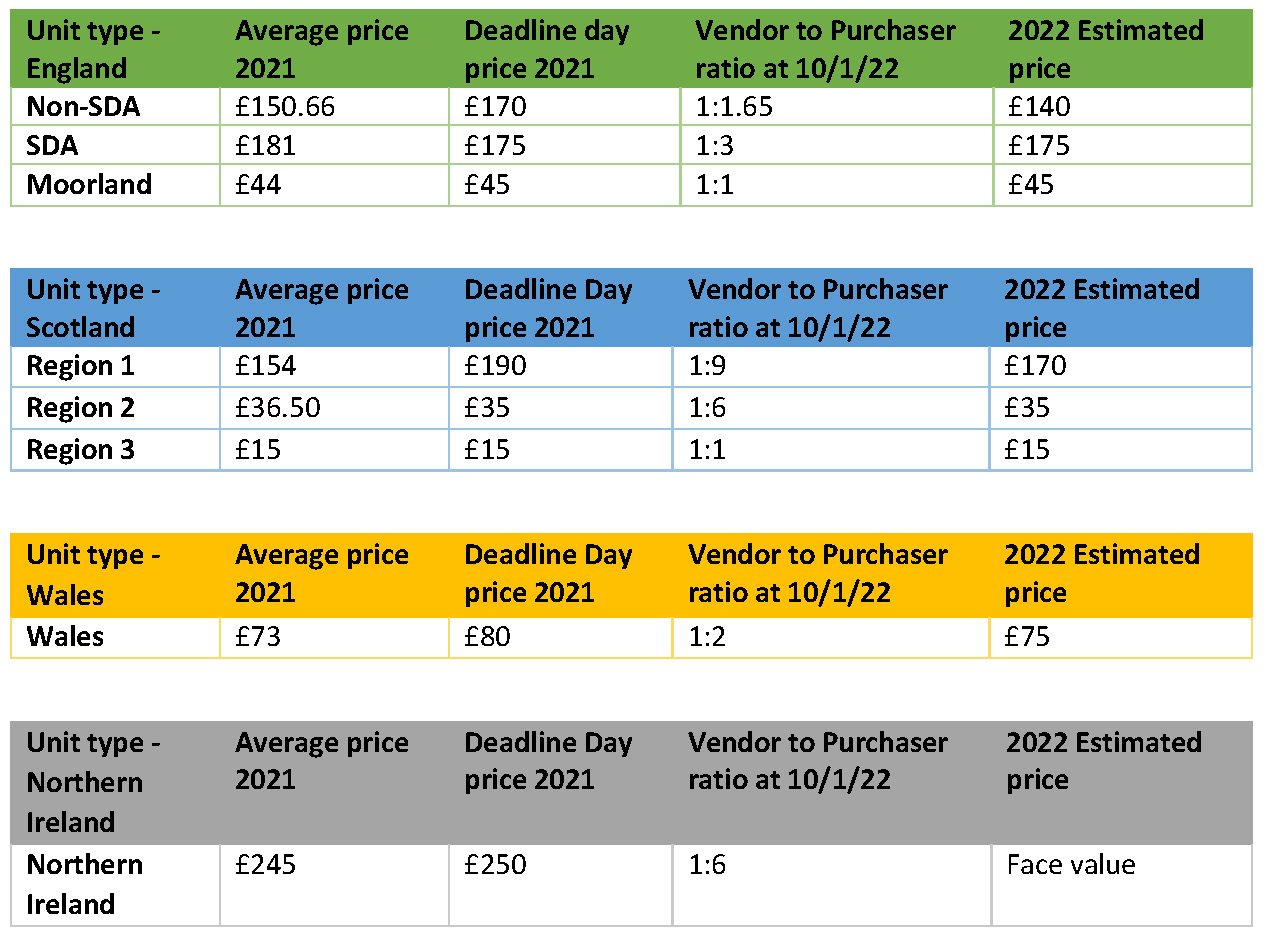 Whilst it will be a few more weeks before we see how the phasing out of English BPS and uncertainty surrounding the other regions affect market prices, there is overall strong initial demand. Other than Scottish Region 3 and English Moorland, every unit type has significantly more purchasers than vendors at this early stage. Very small lots have completed at £180/unit plus VAT for English Non-SDA, whilst this figure will be lower for medium and larger sized lots it indicates that the trend for high early season prices will continue. Whilst we saw prices rise across the board in the final week of last season, this should not be relied upon in this most unpredictable of years.