entitlements – sale, lease & naked acre letting
Basic Payment Entitlements can be sold, leased or transferred through inheritance and can be sold or leased either with or without land. Sales without land are the easiest to deal with and are the most popular method of trading. VAT is payable on Entitlements traded (sold or leased) without land, unless the seller is non-VAT registered. Unless otherwise stated all entitlements are offered for sale without land and VAT will be due on the price agreed. The entitlements listed are offered subject to contract.
If you have any problems getting through to us by phone, please email us with your telephone number and we will get back to you.
The UK Basic Payment Scheme (BPS) will run as it is until 2021, and for a further five years thereafter.
We can offer advice on the sale, lease and transfer of entitlements, along with naked acre letting, and the pros and cons of each type of arrangement. Our experience of the entitlement market means that we are able to offer strategic business planning advice in respect to the UK Agricultural Subsidies and advise how to best safeguard your interests throughout the Basic Payment Scheme and beyond. We also offer professional services including:
Please note we also only act on a subject to contract basis, or subject to the submission of RLE1 forms or actioning online transfer applications, when buying or leasing entitlements for our clients. We do not enter into oral contracts on behalf of any of our clients. Entitlements listed may include lots offered by other agents where prices quoted would include an introductory commission payable to Townsend Chartered Surveyors.
UK Regional Comparison Fact Sheet 2021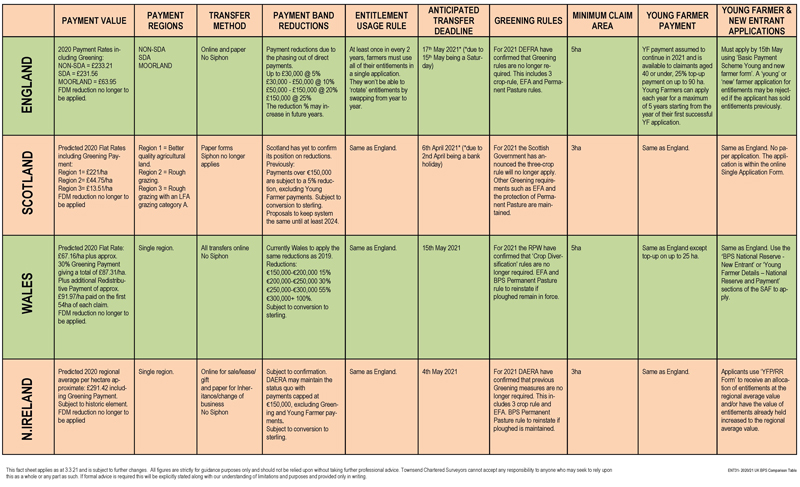 To download/print a copy click here
English BPS payment values for 2020
The 2020 BPS entitlement values and greening payments were confirmed by the RPA on the 3rd November 2020, as shown below:
English Region
 BPS 
 Greening 
 Entitlement Value
€
£
€
£
€
£
 Non-SDA
182.70
162.771
79.07
70.445
€261.77
£233.22
 SDA
181.34
161.559
78.58
70.008
€259.92
£231.57
 SDA Moorland
49.76
44.332
22.02
19.618
€71.78
£63.95
(It has been Flat Rate for each English region since 2015)
The BPS 2020 exchange rate is €:£0.89092.
The 2019 figures were subject to the Financial Discipline Mechanism (FDM), which was confirmed to be 1.432635% by the RPA. This reduction will be applied to all payments made above €2,000 and will be refunded in future years if the funds are not used.
Entitlements are no longer subject to the Financial Discipline Mechanism for 2020 and at least 2021.
DEFRA have confirmed that from the 2021 scheme year, all 3 of the greening requirements: crop diversification, Ecological Focus Areas and the permanent grassland rules from BPS will not apply. The "Greening" element of the BPS payment will be incorporated into the total value of an entitlement. DEFRA have adjusted the "Young Farmer" payment to a 17.5% top-up, down from the previous figure of 25%.
Entitlement trading in Scotland, Wales and Northern Ireland
Entitlement trading in Wales, Northern Ireland and Scotland is now established with the respective schemes having bedded in following their introduction in 2015.  Unlike the introduction of BPS in England, the Regions chose not to role-over entitlements from the Single Farm Payment Scheme. For further information on entitlements in the devolved nations please use the following links:
Unless specifically instructed in writing we are unable to provide advice in respect to the Basic Payment Scheme or any other schemes under the Common Agricultural Policy of the European Union, especially as to how they may affect a particular vendor's or purchaser's eligibility for the Basic Payment Scheme.
Any such comments or statements made by Townsend Chartered Surveyors verbally during the process of buying, selling or leasing entitlements, or leasing for naked acres or otherwise cannot be relied upon unless such advice is provided in writing following receipt of written instructions for Townsend Chartered Surveyors to provide such advice.  Any such oral comments or statements do not form part of entitlement agency contracts.
BPS Transition for England
The Agriculture Bill prepares the way for England to move to the Environmental Land Management Scheme.
The payment reduction bands for BPS in England up to 2024 will effectively function like income tax, with the first band of reductions applied to the first £30,000 taken from scheme, the next to the next £20,000, and so on.
Payment Band

Scheme year

2021
2022
2023
2024
<£30,000
5%
20%
35%
50%
£30,000-£50,000
10%
25%
40%
55%
£50,000-£150,000
20%
35%
50%
65%
>£150,000
25%
40%
55%
70%
The rule in which BPS entitlements must be claimed upon every 2 years or else be clawed back by the RPA will no longer apply "to the 2021 scheme" in England.
De-linkage is, subject to consultation, planned to apply from 2024, not as early as 2022 as is possible under the Agriculture Act 2020.
From 2022 DEFRA intends, subject to consultation to offer an "exit scheme" where some retiring farmers can receive a lump sum payment in place of Direct Payments (whether under the BPS or delinked payments) they would have been entitled to receive during the remainder of the transition.
See below the link for our guesstimate of values for possible Exit Support Scheme and De-linkage payments in 2022 and 2024.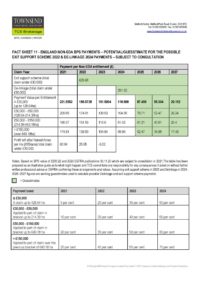 information
If you sell entitlements through us, you will need to authorise us on the relevant paying agency's online system. This is a simple process, details of which can be found here for the RPA online system. For information on authorising us on the RPID, RPW and DAERA online systems please contact Alasdair Squires (email).
Please follow this link for UK Entitlement Trading Updates. If you would like to receive our most up-to-date market information and news, please send an email to Kathy Dean to be added to the mailing list.
Please click the links below for our historic English SPS Entitlements sale price graphs, English SPS Naked Acres rental price graphs, 2015 English BPS Entitlements trading price graphs, 2016 BPS English Entitlement Trading graphs, 2016, 2017, 2018, 2019 and 2020 UK Entitlement Trading Market Reports.  If you would like a formal valuation of either your entitlements or naked acres, please contact us.