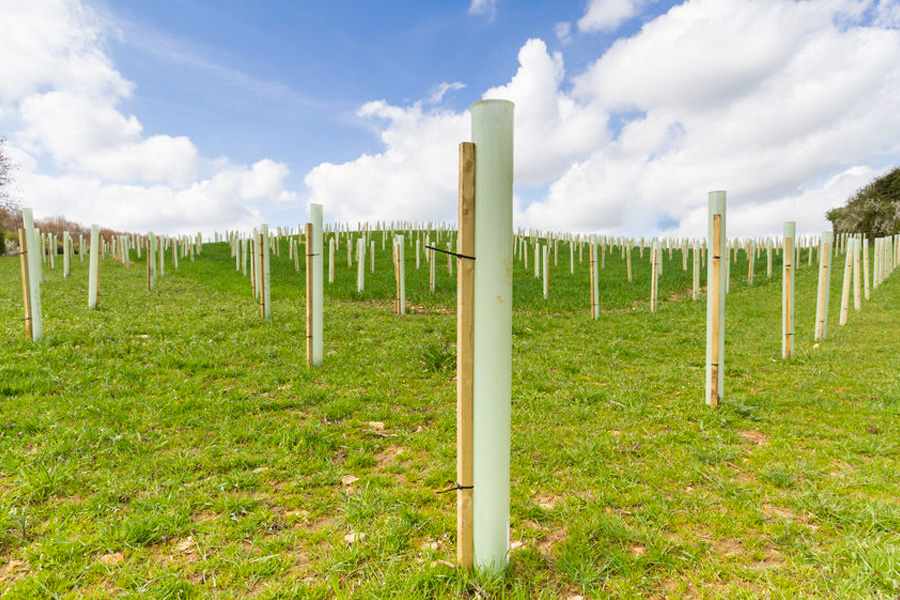 Carbon Capture and Trading
In recent years, Government policy has seen an increasing focus on environmental measures, from the introduction of the Environment Bill to agricultural policy focused not just on food production but on delivering environmental benefit with 'public money for public goods'.  
Part and parcel with this is a sustained legislative drive to reduce the nation's net carbon emissions, which has led to such measures as a ban on new internal combustion vehicles by 2030 and a legal requirement for tenanted property to meet a minimum set of energy efficiency standards. 
Reducing net emissions does not, however, just mean emitting less carbon. Certain measures can also remove carbon from the atmosphere. The UK was a founding participant in the EU Emissions Trading System which penalises some businesses if they do not either cut emissions or buy allowances from others which have done so. Following Brexit, this was replaced by the UK Emissions Trading Scheme, whose function is similar, but which does not currently allow trading of emissions outside the UK. Affected businesses could previously under the EU scheme avoid a penalty by offsetting their carbon emissions with the purchase of 'units' of captured carbon, but these are now longer eligible and, in any case, they could only come from abroad. Many other businesses are legally obliged, or strongly encouraged, to publish their carbon emission figures, which allows them to be scrutinised by an ever more ecologically conscious base of consumers. A permit under the scheme for a single tonne of CO2 equivalent can trade for as much as £70. 
In addition, the Committee for Climate Change of 2019, building upon the Climate Change Act 2008, has given a target of net zero carbon emissions by 2050. This will require a wide range of measures affecting all areas of the economy, laid out in the Net Zero Strategy, and carbon capture is a powerful tool available to help meet this goal.
The Government has already put into place a system in which carbon removed from the atmosphere by woodland planting or peatland restoration can be 'bought' by businesses wanting to self-regulate their offsetting, to prepare for future legislative offsetting requirements, or to be seen as 'green' as possible in their marketing. 
The three main areas of land-based carbon sequestration are through woodland, peatland and soil. The first two are regulated by Government-recognised codes known as the Woodland Carbon Code (WCC) and Peatland Carbon Code (PCC). These provide assurance through set standards of regulation and ensure permanence of the credits sequestered. Woodland creation is the most common way of establishing carbon credits and is the most widely found type of unit. At the time of writing a Soil Carbon Code (SCC) is anticipated but not yet available. Soil Carbon Units (SCU) may still be purchased, but they are considered a less secure option due to the lack of standardisation in recording quantity, additionality, and permanence. 
Future of the Carbon Offsetting Market 
Mark Carney, finance advisor to Boris Johnson and UN Special Envoy for Climate Action and Finance, has established a taskforce to promote the expansion of the carbon offsetting market. There are two key objectives: firstly, to look at how best to expand the market, and secondly to 'legitimise' the market by establishing a framework to regulate and standardise the price and quality of carbon units across projects. This may prove to be a key development for international carbon credit markets.
The UK Government has so far been slow to embrace offsetting as a tool to reach carbon neutrality, understandably focusing on reducing emissions in the first instance. For certain industries, however, there will always be a level of emissions produced out of necessity. Once a company has made all possible reductions then offsetting is an important option to enable them to reach a net zero carbon footprint. It is heartening therefore to see proposals in the 2021 Net Zero Strategy to investigate giving offsets some legislative force.
As companies large and small increasingly pledge carbon neutrality, farmers and landowners (having first accounted for their own emissions) should consider a range of carbon capture schemes from woodland creation to peatland and soil management to meet this demand and alleviate the upcoming loss of BPS direct payments.
What we can do for you: 
Selling Carbon Units 
Woodland Creation: 
We can advise on establishing woodland (including applying for grants from the English Woodland Creation Offer, Glastir Woodland Creation, the Forestry Grant Scheme, the Forest Expansion Scheme, the Woodland Trust Morewoods scheme or the HS2 woodland Fund) that is approved by the WCC, and the validation and verification process.
For those looking to purchase land for woodland creation we can help with the acquisition of suitable land depending on where and what type of woodland project you want to establish. 

 

We have a register for trading woodland carbon units including Pending Issue Units if you are considering taking advantage of the new carbon market.
Restoring Peatland: 
Should you wish to acquire a peatland to restore we can help with the sourcing and acquisition process.

 

We can manage the verifying and validation of carbon units sequestered by the peatland.

 
We have a peatland carbon register and can market peatland carbon units on your behalf.

 
Soil Carbon 
We have a register of clients interested in purchasing and selling carbon sequestered through soil management.

 
For our user guide on producing and selling carbon units see here. 
Purchasing Carbon Units 
We are registered as an official trader of woodland and peatland carbon with IHS Markit.

 

We have our own register of clients wishing to sell Soil Carbon.

 
For our guide on purchasing Woodland/Peatland/Soil Carbon units see here. 
For our registers – available here and wanted here. 
Further information
2020 TCS Brokerage UK Market Report – here
| | |
| --- | --- |
| | |
| Fact Sheet 4 – Woodland Carbon – Pre-planting options | Fact Sheet 6 – UK Woodland Carbon Code – Guidance Notes |
| | |
| --- | --- |
| | |
| Fact Sheet 7 – Carbon Code – 10-Year Budget – 10ha  Broadleaf – England |   |
| | |
| Fact Sheet 9 – Carbon Code- 45-Year Budget – 100ha Commercial – England |   |
| |   |
| Fact Sheet 11 – Carbon Code – 10-Year Budget – 10ha  Broadleaf – Scotland |   |
| |   |
| Fact Sheet 12 – Carbon Code- 45-Year Budget – 100ha Commercial – Scotland |   |
| |   |
| Fact Sheet 13 – Carbon Code – 12-Year Budget – 10ha  Broadleaf – Wales |   |
| |   |
| Fact Sheet 14 – Carbon Code – 10-Year Budget – 10ha  Broadleaf – Northern Ireland |   |
| | | |
| --- | --- | --- |
| | | |
| | If you are thinking of selling Pending Issuance Units or Carbon Units, whether under the Woodland Carbon code, Peatland Code, upcoming Soil Carbon code or even through a private sector measurement system, we advise you to first consider the likely future requirement for your business to become carbon neutral. You may in future require carbon offsets for your own use, and may make a net loss if you sell the carbon sequestered on your own holding only to buy further offsets from elsewhere. | |
| | | |