The Environment Act has received Royal Assent in a UK agricultural market uncertain about its financial future. Basic Payment reductions will bite even deeper next year taking 20-40% of the 2020 rate. This combined with the worldwide focus on climate change following COP26 has created a surge of interest in land-based "Natural Capital".
The next couple of years will see the Government facilitate the emerging market in farm environmental services for the "public good" as they have with the Woodland Carbon Code.
The hope that these sources of income will eventually replace the BPS should be tempered with caution, remembering that history regularly repeats itself with such valuable new markets. There are always casualties with a "gold rush", in which the well-resourced have the potential to exploit the unwary. We have seen some remarkable contracts where City investment, presenting itself as rural and "green", offers very low prices on unfavourable terms to landowners for their credits.  A reliable and impartial source of information is needed to create an efficient market to ensure farmers and landowners make the most of these credits.
In 1989, under similar circumstances, Hugh Townsend was the first to report country-wide market prices for the developing trade in milk quota.  These were published in Farmers Weekly as the firm's market prices for entitlements, carbon and water continue to be today.
We have been brokering all types of agriculture related subsidy payments/licences since 1985. These have included Milk Quota, Suckler Cow & Ewe Premium, Single Farm Payment and BPS Entitlements. We know from experience that detailed knowledge of what is being traded and how that particular market works is the best safeguard to manage the risks and rewards involved.
Since publishing the UK BPS Entitlements User Guide in 2017, today we are launching our second book on agricultural trading – the UK Environmental Credits User Guide. This explains the policy background, both domestically and internationally, that has led to the emergence of these tradeable credits. We discuss the nature of each credit, including how they are created/acquired and who might buy them. We also consider the long-term potential of these markets and the possible need for some credits to be kept "on farm" with the major changes to agriculture now taking place.
As a firm we have always valued our independence, now for nearly 30 years. We look forward to further trading in these developing markets, charting a route with the same high standards and expertise we have maintained over the years as the leading milk quota, water abstraction licence and BPS entitlement brokerage firm in the UK.
The UK Environmental Credits User Guide is available free of charge here, or as a hard copy at £25 plus P&P from Kathy Dean.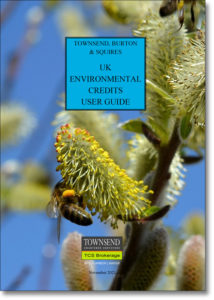 "The farming industry is at the forefront of the battle to limit the effects of climate change. This comprehensive guide is a very useful resource for anyone who wants to understand the context, criteria and complexity of the significant number of environmental schemes now available. I'll be keeping a copy within close reach."
Andrew Meredith
Editor, Farmers Weekly
"This book gives an introduction to these new, developing and important areas where policy is using regulation to create value and so enable private markets to assist public needs.  All involved need such an initial guide to help form their insights into where value lies, where to see opportunity and the risks to avoid."
Jeremy Moody
CAAV Secretary & Adviser